Upload to auto processor
This upload option is used to submit documents for mailing. In all cases, document templates will require prior setup by Bing Customer Service.
Supported file types are:
Documents - PDF, XPS or PostScript (addressed or unaddressed)
Data files (for unaddressed documents) – CSV, Excel* or JSON
* Excel spreadsheets must contain only one worksheet
The auto processor will automatically find and extract address data from addressed documents you upload. You can also upload accompanying unaddressed documents, and specify them as attachments. Attachments are included with an addressed document. Documents can also be 'auto-identified' as either an attachment or an addressed document, using file name or document content.
Click the Select Files button, then browse to & select your document(s), and click Upload. The 'Select Files' process may be repeated as neeed (e.g. if more than one file location needs to be browsed to). All files uploaded in one session are combined into a single mailing.
Fig 1.1
NB Document Type will only appear as an additional selection option if required, for granular document identification. Only use this option if you have been previously instructed by Bing Customer Service. If enforced, this option must be selected.
Once more than one print file has been uploaded, an "attachment" check box becomes available that can be used to indicate unaddressed documents to be included in the mailing.
If a data file (csv, xls, json or xml) is uploaded then all pdf's are deemed attachments and the checkbox is hidden.
Zip (and other archive) files can also be uploaded to the auto processor. Archive files should only contain print files (i.e. pdf, postscript or xps). Data files, if required, may be uploaded in the same session but must be uploaded separately from the archive file. Any non-printable files that are present in the archive will be ignored.
Once all files have been successfully uploaded, you can review your choices (and delete them as required) before committing to Bing production. Once your document list is finalised, you'll need to select a mailing profile (Profile to Use).
Profiles set specific predetermined mailing requirements e.g. colour model, simplex/duplex or the application of a fixed back page. The system default profile is AUTO and will use colour-model: mono letters with mono attachments in simplex. NB Only Bing Customer Service can change or add profiles.
Selecting a profile from the available list will populate the fields relevant to it ie:
Email address (for acknowledgements)
Department (for billing breakdown)
Purchase Order (if separate invoices are required)
Colour Model
Hold For Preview (checked or unchecked)
Double Sided (checked or unchecked)
Send Confirmation email (checked or unchecked)
Delivery Type (Regular or Priority mail)
You may also be required to select Document Type (See above). It is a list of available data extraction rules and are based on aspects of the EasyPost Mailroom's 'preset rules', set up by Bing Customer Service. If you process multiple templates, you may be required to manually select this option for specific documents if a filename match is not possible. NB If you select a specific document type it will automatically complete the mailing detail based upon the data extraction preset for that document. Incorrect Document Type selection will usually result in falure to upload.
Profile (and Document Type) selection will pre-populate various auto processor settings, however any of these fields may then be overridden by manually entering the data in the Profile Overrides section.
A Hold for Preview check box is available to hold mailings for your review. If this option is selected, mailings must be reviewed and released (or cancelled) once acknowledgement is received (if requested) or sufficient time has elapsed to allow address extraction to complete.
Click the green Submit button to submit the documents for mailing. Once an acknowledment is recieved, or sufficient time to pre-process the Mailing has lapsed, switch to the Mailing Search menu item to check the results of the upload. As with the Mailroom application, particular attention should be paid to extracted addresses and document length to verify document separation and address extraction results are as expected.
Upload to Customer Service
This option is used to upload files for Bing Customer Service to act upon (e.g. a company logo or document to test for address extraction). Click the Select Files button to select your document or file. Click Open to select, and then Upload. Once the upload is confirmed please advise Bing Customer Service as upload is not monitored.
Send SMS
The SMS screen can be used to send both adhoc SMS to a few recipients, or a personalised campaign to all records in a database. Input is broken into 3 components.
The Destinations section allows manual input of mobile numbers, or upload af a recipient file.

If a data file is uploaded (Click "Recipients file"), a data column display, and options to select the data column containing mobile number appear (in the example below, this is the field "sms"). If a header record is present in the data, check "First Row are Headings". The header record is not used, and the column heading appears for selection in Recipient Column.
Note: the file can be removed using


A hyperlink to a hosted PDF document can be instered in the SMS message. The PDF must first be uploaded using the Linked Document option.
Note: files can be removed using


The SMS Message text is entered in the Template section. Character count displays below the Message window.
Note: Exceeding 160 characters will send one message but incur an additional SMS message charge.
Name: Optional, but required for re-use (see Save). If already created, the template is selected from the drop-down.
Subject: Optional. Used for email only (email address is a valid Recipient option).
Replies To: SMS repies can be directed to a specific a mobile number or to Bing. Additional charges apply. If replies are directed to Bing, this is reported via on demand reporting - see the Reporting section.
Sender Label: appears as a transmission name in the recipients SMS message.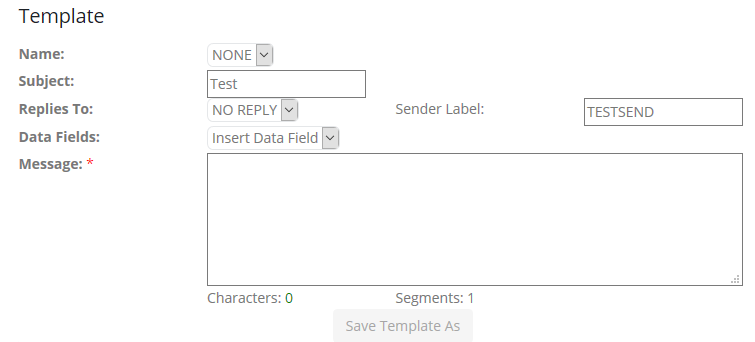 If a data file is used, all fields are also available for insertion in the message body (Insert Data Field drop-down) for personalisation.
Note: if a linked document exists, an additional field 'hyperlink' will be available for selection.

Note: Place the cursor in the position the variable is to appear before selecting. Once a data field is inserted it appears in brackets.

Note: Variables (including brackets) may be moved, copied and pasted.
Character count does not allow for variable length.
Clicking Advanced reveals additional reporting and process options.

Profile: additional production options. Do not use uless instructed by Bing Customer Service
Email address: to identify sender or send email acknowledgement of receipt
Subject/Title: set for historical identification of the campaign
Department List/Department Entry: Used for camapign cost allocation
Puchase Order: manually entered if applicabe.
Once created a template can be Saved for re-use (click Save). Once a template is saved, the additional action buttons Delete and Save As will appear.