Statement / Make payment
This menu item shows all recent invoices. Additional transaction history on your account for approximately the last 2 years can be viewed by checking "Show history".

Totals on the top line:
Amount Owing - invoices not yet paid.
Uninvoiced - mail cost total not yet invoiced.
Unallocated Credit - received payments not yet allocated to an invoice
Actions available:
Pay Now - allows payment of the entire amount outstanding
Add Credit - applicable for Pay As You Go accounts only
Clear Payment
Individual invoice detail / payment
Individual invoices can be expanded using

to view further detail. The invoice itself can be viewed or downloaded as PDF by selecting Show Invoice from the drop-down against each line item (this will either open or download a PDF copy of the invoice, dependent on your browser settings).

Expansion of the Mailings report (click

) displays individual Mailings as line items with high-level detail. Further expansion will display mailing detail.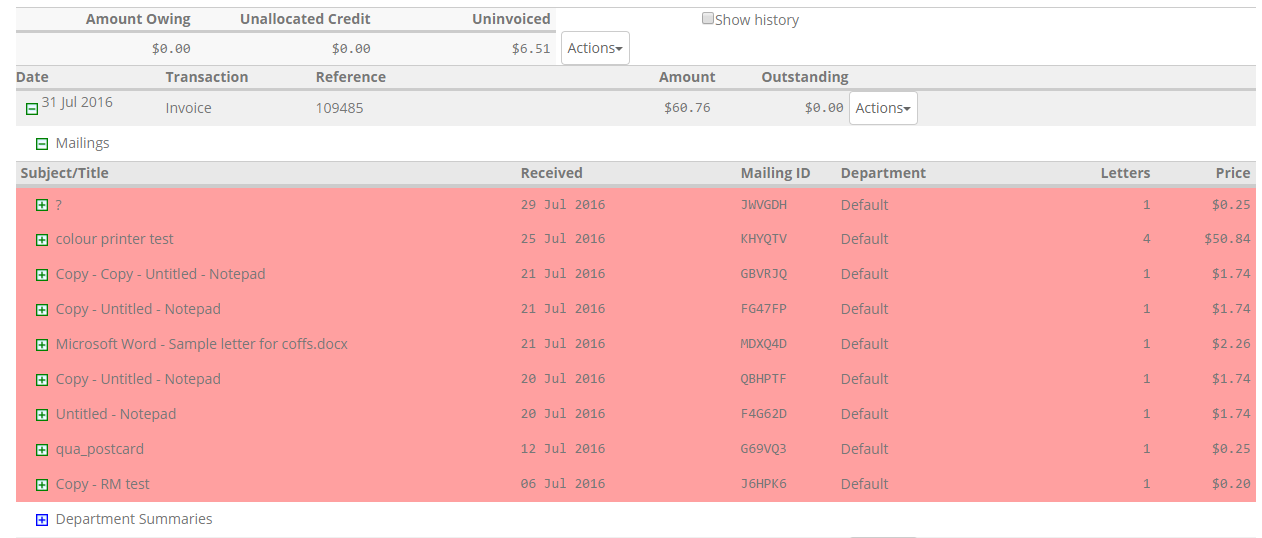 Expansion of Department Summaries (click

) shows individual summaries, and allows selection for display (Actions > View PDF) and Export as ZIP file (menu button).

User Maintenance
Displays all existing Customer portal & API users, and allows search for specific users by User Name or Full Name (Search for User).

Existing user IDs can be deleted (Actions > Delete) or further modified by expanding detail (click

).
Create User dialog
Username should be the users' email address where possible. NB For API credentials, please include Bing Account ID (displayed in parentheses at the top of the page). plus text ".upload" e.g. ABC12345.upload
Password strength increases by the combined use of upper and lower case text, numbers and special characters. Strength is indicated next to the password field as text is entered. Confirm Password must match, and password be of medium strength to enable the "Save User" button.

Mousing over the permissions acronyms (AE, UE, CE, VL etc) (Fig 2.3) will provide explanatory notes for each permission type.

Restrict User view
Each User can be restricted to view only their own Mailings by unchecking the UE setting.

NOTE: This will suppress the "My Mailings Only" check box in Mailing Search. Additionally a Department Selection drop-down becomes available.

Users can then be restricted to view only specific Departments. If all expected Departments don't appear, please contact Bing Customer Service to have them added, or your account settings corrected.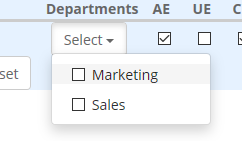 Add Company
Additional Bing accounts (companies) can be added only if the logged-in user already has access. To Add an account to a user click this option.
A type-ahead appears as text is keyed in to Add Account and can be selected by click.

Once added, permissions are then set for the user on the additional account.
Change Password
Current password is required. Only available for non-administrative accounts.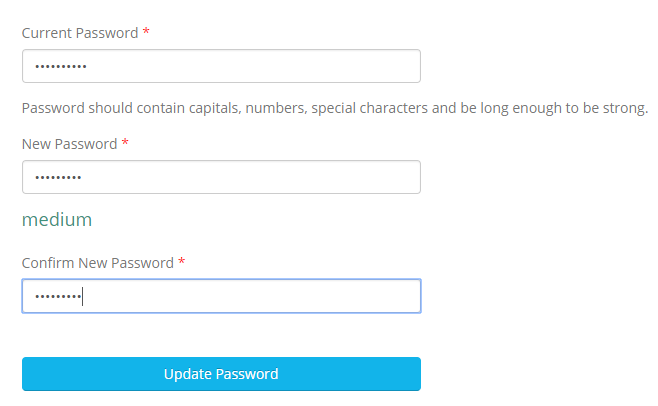 Registration Code
Mailroom and Spooler registration codes may be reset if expired. Expiry occurs 7 days after first use.
If expired, Expiry date shows Red.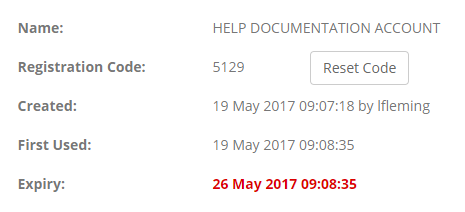 Once reset First Used remains blank.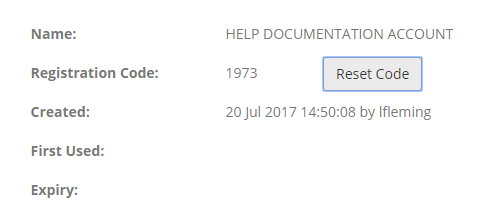 When the next Spooler or Mailroom is registered, Expiry date is repopulated and appears Green, and Expiry date is set.