Installation and Upgrade
Click here to download the installation package.
Double click the msi package to initiate installation and click the checkbox to accept the terms of the license agreement.
Click Install, clicking Yes to the User Access Control pop up dialogue, or enter administrator credentials to continue.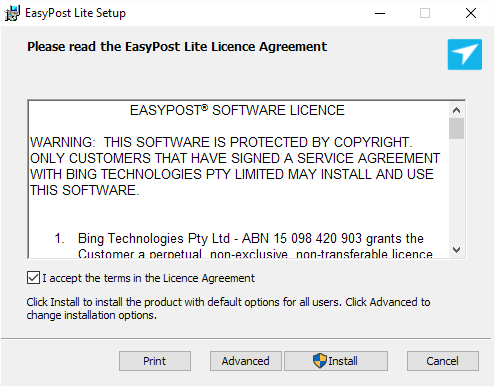 Fig 1.1
If the installer detects a previous version of EasyPost Lite an additional dialogue will appear. Click OK to continue. The upgrade will preserve all settings and bypass registration.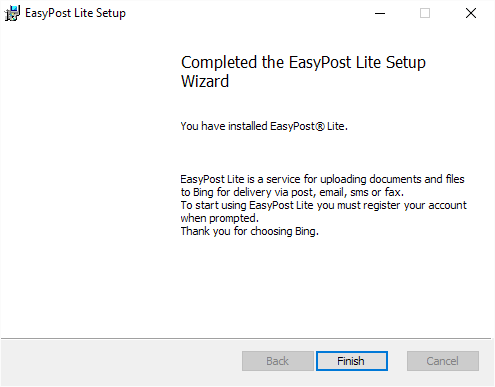 Fig 1.2
After closing the installation dialogue (by clicking "Finish") you will be presented with a registration screen see figure 2.1. Registration is required to link your EasyPost Lite software to you Bing account.
Call Bing Customer Service on 1300 309 800 to obtain your registration details.
Note: Registration may be postponed by exiting the registration dialogue, however the EasyPost Lite service is inoperative until registration has been completed.
Enter your Username or email address, Bing Account ID and Registration Code, then click Register.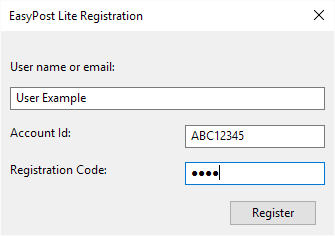 Fig 2.1
Following the input of your account credentials you should see the registration succeeded dialogue. If you have any problems during registration, please call Customer Service on 1300 309 800.


Fig 2.2
To learn more about using EasyPost Lite continue to the User Guide.
Uninstalling and Removing
EasyPost Lite can be uninstalled from Programs and Features.