All activated (automated) reports for approximately the past 2 years is archived under Reports.
Other on demand reports can be generated under Create Report.

Fig 1.1
Existing reports can be downloaded by first expanding the relevant report folder (click

) then by clicking on the required report hyperlink. Applicable data (e.g. invoice number, creation date) is part of the filename, dependent on the report.
NB Reports generated uing "Create Report:" are stored under the folder "OnDemand".
| | |
| --- | --- |
| | |
| Fig 1.2 report name includes invoice number | Fig 1.3 report name includes creation date |

The most commonly used "on demand" Report is Search Letters.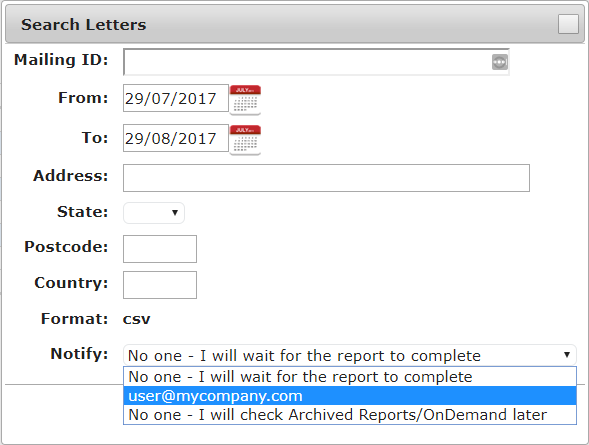 Fig 1.4
To date default is today's date, From date default is one month prior to today's date.
Various applicable filters are available for each report option, for example Mailing ID returns only letter detail applicable to a specific mailing (which is also available as an attachment to email acknowledgements, if requested).
Choose the Notify option for your report. NB Waiting for the report to complete is not advisable if a large number of records is anticipated. Once reports are generated using this option, they are both saved to your Downloads foder, and stored in the portal under the OnDemand folder.
Other available options (for most reports) are to email a notification the report is complete to the logged-in user's email address, or to check back later.
For Export Letters, there is an additional choice to output either PDF (one PDF containing all letters exported) or a .zip (one zip containing individual letter PDFs)