In addition to sending documents by post, Bing can also send via Email, Fax and SMS transports.
Click to send documents via Email, or to send via Fax.
Capabilities
Delayed transmission.
Configurable From address.
Replies to Bing or your nominated mobile.
Failover to email or postal.
Conditional failover for unaccessed documents.
Include custom data.
Short url for hyperlinked documents.
Reporting for hosted document access.
Reporting for replies to Bing.
Prerequisites
In order to use SMS as a document transport you need the following:
An extractable SMS address in your document.
A server side SMS template.
SMS Templates
Replies To is who the message appears to be from. When set to No Reply a Sender Label up to 10 characters must be set e.g. BANKCORP. In this example the message would appear to come from BANKCORP and the end recipient would be unable to reply. Replies To can also be set to Bing, where any reponses can be recorded and reported upon, or set to a nominated mobile number.
Message is the body of the SMS message and can include a mixture of static text and/or variable data.
To create your SMS template contact Bing Customer Service with your requirements.
Variable Data Fields:
Reference, Account ID, Department, Title/Subject, Postal Line1, Postal Line2, Time, Document Hyperlink.
Extracting SMS Addresses
To send to an SMS address you must first include it in your document for extraction. The SMS field looks for sms: and is case insensitive. Data after this marker is extracted and used as the SMS address.
sms:1300 309 800
Ms J Jones
Bing Technologies Pty Ltd
Suite 54, Jones Bay Wharf
26-32 Pirrama Road
Pyrmont NSW 2009
Figure 1.1 shows how the SMS address will appear when successfully extracted.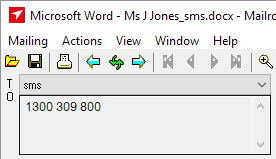 Fig 1.1
Extracted address are prioritised in the following order: SMS, Fax, Email, Postal.
If an SMS and a postal address are extracted from the same letter, the SMS address takes priority and will be used as the primary transport method.
Advanced Features
Contact Bing Customer Service for advanced features such as conditional failover and handling of replies.