A mail approval process can be introduced if your Mailroom installation is set up to use a shared database. See the Mailroom Configuration Utility section for how to configure this.
The EasyPost Mailroom has functionality for saving mail progress at two stages prior to submission - New and Draft.
New items are those printed to Mailroom and not processed past that point i.e. the wizard was not used to extract addresses or further process the print file.
Draft items are those that have been processed to the point of having addresses successfully extracted.
Both mailing stages (in a shared database environment) are visible to all users, thus 'maker' users can print, or print and 'build' a mailing, then save their progress (to Drafts) for an approver to check and submit mail.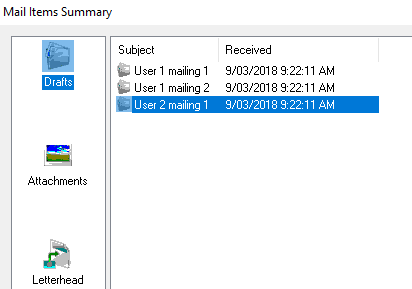 Fig 1
In Fig 1, the approver clicks items to be checked and sent, which reopens them in the Mailroom at the point they were saved, for review and submission or cancellation as required.
Note: 'maker' users are able to submit mail unless disabled from doing so. Contact Bing Customer service if this is required.